Maribor: my favorite place
Maribor is my favorite place with plenty of things to see and events to visit. There are outstanding events and
gorgeous
places in Maribor I just must visit almost every time we are in Slovenia. There is something about these places that words can hardly describe.
It is very hard to tell which of these is my favorite place or event. There are so many and each of them is unique in it's own right. However, there is one thing in common to all of them. They are at most a few local bus stops apart.
Let me show you my favorites, one by one...
Lent festival: It really becomes lively every evening and it lasts until early morning hours.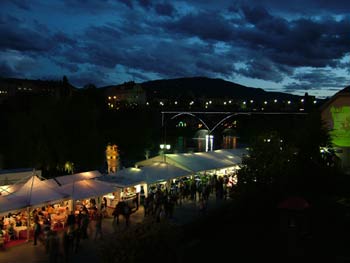 Favorite events
My totally favorite event is Lent festival. I mean, this two week set of hundreds of events with more than 500,000 visitors mostly occupying a river place called Lent is absolutely awesome. The festival hosts numerous eccentric theaters from Slovenia and around the globe and if possible I'm there.
River place performances are particularly spectacular. These are normally in late evening hours so I have a special treat with my husband in "
Gala zar
" restaurant beforehand. This is as far as we are concerned the best Balkan restaurant in Maribor and yet another favorite place in the city.
The main stage stands on a giant raft
floating on the river
Drava and the view from the surrounding bleachers is amazing. It just shows why Maribor is my favorite place
in Slovenia
. Festival Lent is held every year the last week in June and the first week in July.
A great annual Radio City concert with more than 25,000 spectators is another must see event I used to attend every year until I gave birth to our daughter...ahem...
...parenthood does change life.
Although with mostly Slovenian bands the concert is a dazzling show of great music, energy and rhythm.
Another great event in Maribor which I like it so much and is connected with such a beautiful memories is Summer puppet Pier - International puppet festival. When we lived in Slovenia Maribor I always visited a lot of puppet performances and this hasn't changed even now since we have become parents. The Summer puppet Pier is 19 years old and is held from the beginning of July until the beginning of September. It is happening on three stages (Rotovski square, Puppet Theatre Maribor, Slovene National Theatre Maribor) in Maribor and in other Slovenian cities and Austria. The puppet theatres which perform on the Festival come from Europe and other continents.
If traveling to Maribor in January, the world's oldest women skiing competition Zlata Lisica (Golden fox) is an imperative. Believe me, this skiing event is an absolute must see. Tens of thousands of fans from all over the globe gather every year to Slovenia on Pohorje's Snow Stadium to support the best women skiers in the world.
In September the Snow Stadium (Pohorje) hosts world's best mountain bikers. Maribor has recently become one of only 12 places that host annual down hill world cup. Another sport event worth a visit or perhaps even worth a try! Yep, on top of being a wonderful river place, Maribor is is also a sports heaven.
We've got to stop at each of the ponds but we like this one best.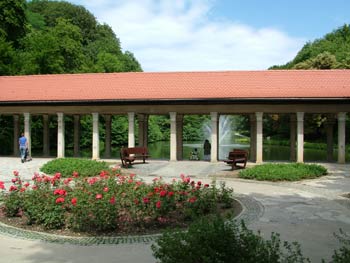 Favorite parks
Maribor city park is an absolutely stunning 134 acre parkland and my daughter would stay there for ever if possible! I believe the park is her favorite place in Maribor.
She is stuck with playing on vast lawns, counting trees, feeding ducks, excitedly observing enormous fish in each of the
Three ponds
, visiting beautiful
Aquarium
and totally enjoying hard deserved ice cream at the
"Trije Ribniki" restaurant
(pronounced Tree-yeah rib-nicky).
I didn't count the miles we have done strolling up and down its elegant promenades and paths but this must be in hundreds. No wonder then so many locals have the park as their favorite place.
Elegance, beauty and diversity are three words that best describe the University botanic garden.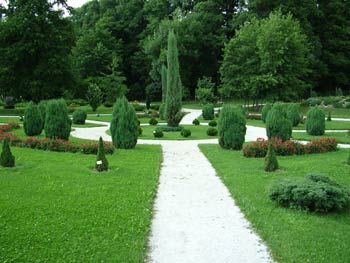 Maribor University botanic garden is another must see park. With 20 acres, 15000 plants, 2000 plant types and tranquility of Pohorje forests on its doorstep, it offers a fairytale experience.
I am not a gardening person...
...but I simply give in to its mesmerizing powers. It really is a wonderful botanic garden created with such a care. However, it is still very much unknown to people, even locals!
Favorite routes
Taking a cable car to the top of Pohorje mountain is what we do every year. Pohorje is simply spectacular. Almost 550 acres of skiing slopes and in excess of 160 miles of mountain biking routes for Maribor side of Pohorje alone is...
...more than we can possibly chew.
Wine roads represent another hidden gem and is my husband's favorite place. Milan is a specialist in discovering scenic wine roads around Maribor with two of them starting right in the city.
Bracko and other tourist farms nearby are surrounded by beautiful vineyards.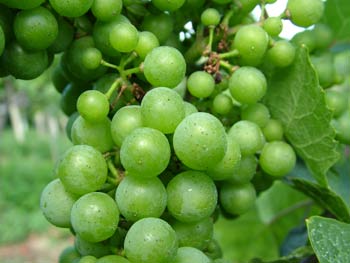 Maribor tourist wine road and Pohorje tourist wine road both start in Maribor. Connecting dozens and dozens of wine cellars and tourist farms this is an absolutely magnificent exhibit of deeply routed Slovenian wine culture.
Slovenia and Austria have recently joined forces and combined tourist wine roads on both sides into a mind-blowing wine labyrinth stretching from Maribor in Slovenia to Graz in Austria some 40 miles away.
The mega-route is bearing the name of Nadvojvoda Janez (John Baptist of Habsburg, 1782-1859), Archduke of Austria who brought railway to Maribor in 1846 and hugely influenced regional wine culture.
My favorite place ... or should I say places
Where to begin? My favorite place in the city is Slomsek square in the heart of Maribor. It is an interesting mixture of various purposes or as locals would say: "A little bit of everything for the whole family."
I just like to walk around this beautiful square or climb up to the top of the
Maribor cathedral
's bell tower (57 meters). It rewards you with amazing views of the city and its surrounding.
Slomskov square is one of my favorite places - green and with plenty of architectural marvels.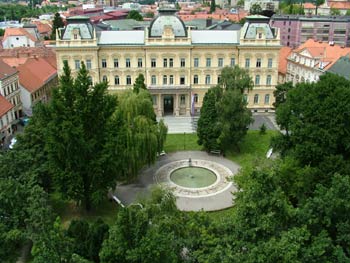 Any other favorite place? Oh yes, Takos! This might be surprising but my favorite coffee treats are in Tako's Dos in Europark shopping mall or in a small Takos restaurant in the old town called Lent. There are simply all elements in it and still one of the best meeting points.
It is very close to the Old vine. With more than 400 years it is the oldest Guinness Book of Records certified vine in the world.
Every time when we come to Maribor I try to find a new cafe. I really can't complain about the selection of different cafes in the city but perhaps I am just nostalgic because at the end of the day I usually end up in Tako's having a wonderful cup of "white coffee" and a chat with my friends.
My favorite restaurant is without any doubt Villa Rustica. It's got everything we need... for the past 10 or more years and counting.
What about wine? I leave this to my husband, for a reason! His favorite tourist farm is Bracko (pronounced Bruch-co) and I've got to agree with him. They've got all we need: marvelous food, excellent sweet and dry wines, cycling and walking routes, and plenty of space for kids to play around.
My favorite pizzeria is...
...oh that is really, really difficult...
...because everywhere we go pizza is simply great. Like I said before Mariborians treat pizza with unusual respect so pizzerias have to be good or they quickly go out of business. However, our favorites are
pizzerias Pomodoro
,
La cantina
or Villa Rustica. They are all good, really good.
My favorite pub is...
...again a very difficult decision. There are
so many
out there. But for the past 10 years Takos has been the regular meeting point. During the day we usually end up having a cup of coffee in Takos Dos in Europark, but evenings are best in Takos - Lent in the old town. We absolutely love this place. Great atmosphere, always good music, brilliant service and of course they always have a good choice of Mexican food and drinks.
Jazz club Satchmo is located in the cellar of the Maribor Art Galery.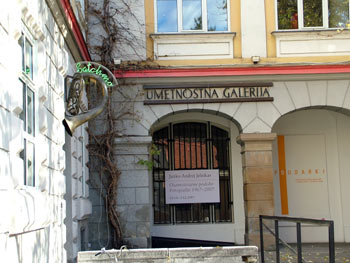 But Takos is really popular and sometimes it's so full that you've got to move on. Our second choice is then
Jazz Club Satchmo
. This pub-style club is located deep in the cellar of the
Maribor Art Gallery
. Satchmo is known for its great music (jazz, blues, soul, funk,...). Their concerts and performances are always fully booked but for a very good reason, the atmosphere is absolutely thrilling. On top of that they somehow regularly manage to attract some really big names from the world of jazz and soul.
The best ice cream in town...
There is no doubt, the best ice cream is at
Lastovka
(pronounced las-tow-ka). This is a perfect example of a proud family business.
They make the best ice-cream I have ever tried, bar none.
The Lastovka's ice cream is pure indulgence that even best pictures can't describe.
How can you find them? They have three outlets and there are always long queues in front. Just ask the locals, Lastovka is one of Maribor's symbols and everyone knows them.
So, what makes their ice cream
so special
? Good question! Everything, really. Extraordinary taste, creamy texture, variety and service are all at their best.
The best cafe style confectionery is (in my opinion) Pohorska kavarna (kavarna=cafe) in a pleasant location on the foothills of Pohorje. It is famous for its homemade Pohorska rezina (Pohorje slice), tiramisu, fruit gateau and a variety of cakes. This is an absolutely mouthwatering experience that shouldn't be missed.
Amaretto cake at Pohorska kavarna is just one from their rich assortment of cakes.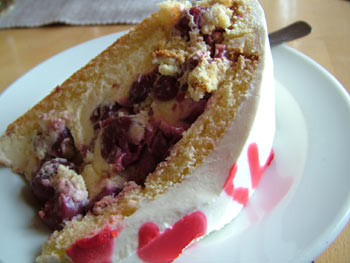 There are many more places and events in Maribor I could mention here but I decided to go only for our favorites. You may find your own favorite place not on the list here. That is exactly how we should experience every destination we visit...
...you've got to experience things yourself.
The most important thing is that we enjoy our holidays, take the memories home afterwards and relive them again in the future when returning to our own favorite place.