Mountain Pohorje
I cannot imagine holidays in Maribor without this beautiful mountain. Pohorje (pronounced po-ho-rieah) is unique in so many ways and everyone absolutely loves it. The mountain is a magical place with a perfect blend of untouched natural beauty and man-made wonders.
The mountain
hides the southernmost mountain high peat moors in Europe.
This most picturesque and largest high peat swampland in Slovenia is ideal for hiking with miles upon miles of well marked mountaineering and hiking routes.
It is a true
mountaineering, hiking, skiing and mountain biking heaven
, let alone its spectacular
adrenaline park
and other
world class sports facilities
.
This is a must do mountain for most of Mariborians
and Slovenians
. It is actually really difficult to find a person in Maribor who wouldn't visit it at least few times a year.
But even if you are not the kind of a person who puts on trainers every weekend and runs to the top of Pohorje you just must like it. If nothing else you can sit in one of Maribor cafes and watch skiers or mountain bikers swishing down its slopes.
That is so cool! You can literally watch them from the city centre and I absolutely love it. The view is constantly reminding me that there is always something you can do here.
But how can you
get there
if you stay in one of the city center hotels? You can take the local bus number 6 just off the tourist information center and in 10 minutes you will be in a completely different world. Or even better, you can rent a bike and ride to the lower cable car station!
Pohorje from Maribor city centre.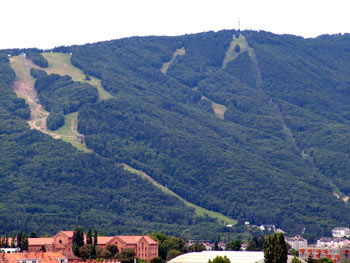 The lower cable car station.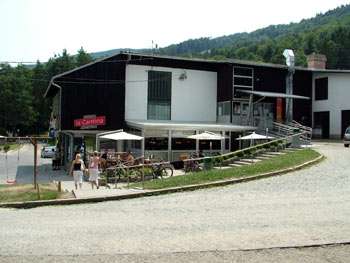 The upper cable car station.
But if you want to
reach
the top of the mountain you can:
take the number 6 bus and then a cable car
rent a car and drive to the top
rent a bike and ride to the top (for the most enthusiastic)
or simply walk (now that also requires some enthusiasm)
Staying in Maribor is actually so cool. In the morning you can drink your breakfast coffee in the city centre with all the morning buzz but 30 minutes later you can enjoy beauty and peace of a magical mountain.
The best thing is that you can spend an absolutely great day or afternoon on
Pohorje
foothills without a need to go to the top.
We very often spend a whole day there. One reason is the amount of things you can do but there is one more reason. Our daughter is really scared of cable cars. She is a typical frequent flyer but when it comes to cable car, don't even mention it!
Well, whatever the case, it is really difficult NOT to go to the top of the mountain. Great views, absolutely refreshing temperatures during hot summers, unspoiled nature, great hiking, mountaineering and mountain biking routes, great skiing slopes, a number of mountain huts, an adrenalin park, and much, much more make Pohorje simply irresistible.
Pohorje is a home to a
famous natural climatic Olympic center
that regularly hosts top sports teams and athletes from Slovenia and all over the world. Every year it also hosts
Zlata lisica (Golden Fox)
, the world's oldest women skiing competition, a
mountain biking downhill world cup
, and several other big sport events.
Let me tell you how we make the most of everything the mountain has to offer.
Downhill competition.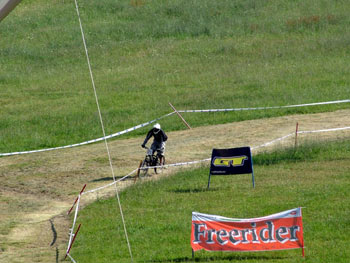 Future downhill champions?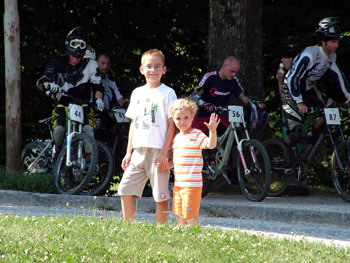 Mountain biking
Two and a half miles long downhill bike park is one of the only 12 regular world cup tracks. When still in Slovenia I used to cycle a lot with Pohorje and its endless routes being my favorite destination. However, there are now more than
160 miles of mountain biking routes
.
Granite, Maribor-Pohorje, Pohorje transversal, Bike park and Areh are just some of numerous routes. I mean, there is everything for professional and less experienced bikers alike.
Hiking and mountaineering
16th century St. Bolfenk church is a well placed starting point for hiking.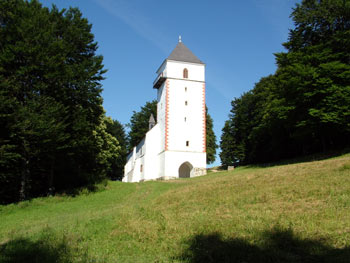 Hiking and mountaineering are the number one summer recreation activities in Slovenia.
Proof? With more than
170 mountain huts
or one for every 11,000 inhabitants Slovenia ranks top in the world. 16 mountain huts are on Pohorje alone making it a true mountaineering, hiking, skiing and mountain biking heaven.
Mariborska koca is the first in a row of 16 mountain huts (and one of the oldest).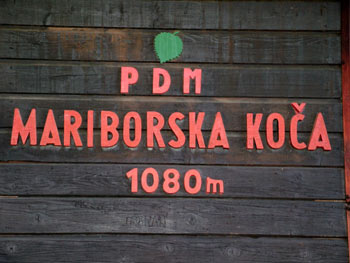 Marusa made a new friendship on Mariborska koca.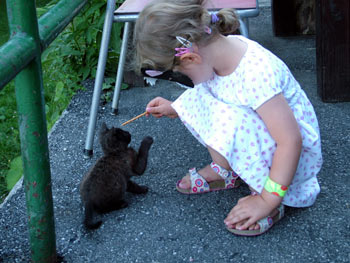 Why are there so many mountain huts in Slovenia? Well, you're never too far from them if you're tired and you can only appreciate that once there, in the mountains. All hiking routes are well marked and there are Pohorje maps available in every bookshop and many supermarkets.
Why are hiking and mountaineering so popular in Slovenia? They offer a perfect retreat from a hectic city life. People greet each other, make friendships, sing, laugh and basically take it easy. This is a national obsession and we love it.
Mountain biking
OK, skiing is definitely the number one winter sport in Slovenia and there is rarely anyone in the whole country who wouldn't do it. It's like learning to read, kids start learning to ski in primary school and Pohorje is a skiing heaven. Its skiing slopes are not as vast as in infamous skiing centers in France, USA, Italy or Austria but they feel so much more homelike.
What can you find here?
More than 40 km of well-kept slopes for all types of skiers. The slopes range from 325m to 1327m above the sea level. They are connected by 4 chairlifts, 16 ski-lifts and the oldest cable car in Slovenia (a gondola). It offers night time skiing between 6pm and 9pm on
the Snow Stadium
. The 5km ski run for
night skiing is the longest in Slovenia and Europe
. Whenever winter does not produce enough natural snow its slopes are covered with artificial snow all the way to the valley.
My husband introduced me with cross-country skiing, yet another sport that has found home on magical mountain. I love it so much that I actually sold my alpine skis and bought cross-country gear instead. I now totally understand why Scandinavians are so obsessed with this sport! 36km of tracks offer some of the best cross-country terrains in
Slovenia
and this part of Europe with breathtaking views and absolutely brilliant conditions.
Numerous ski-stops and huts make it feel that winter vacations on Pohorje are not just about skiing and snow boarding but also about enjoying every minute of the day. Vast forests on the other hand offer winter joys for even the most demanding skiers.
Snow boarding has become really popular among youngsters. (Snow boarding competition on Pohorje)
Our friend's son Lucijan is one of those Slovenian youngsters "obsessed" with snow boarding.
I used to ski on Pohorje a lot and the place stayed in my memory as such a wonderful and rewarding mountain. You can enjoy skiing but you can also take the full advantage of everything else the mountain has to offer.
What can I say, Pohorje is just simply magical.