Farm tourism around Maribor
Maribor is surrounded by dozens of
beautiful farms
. Farm tourism is extremely popular among tourists and Slovenians traveling to Maribor. While some are like mini farm hotels, others offer sustainable development tourism or bed and breakfast style farms.
My husband Milan in particular is a farm tourism believer and their very keen visitor. So much so that he's made numerous acquaintances with
many Slovenian
farm
owners through years of experience. But yes, I like them as well. It is a pure joy having a Sunday lunch in one of the farms around Maribor.
Delicious
homemade food, excellent wine, nice people, and they are all kids friendly. It is normally pretty hard to convince my daughter to sit at a restaurant table for one or two hours but on a tourist farm she is always busy. Flowers, farm animals, running up and down the vineyards...
...it's so much to do and she usually doesn't want to leave after a whole afternoon there.
Brigadir wine cellar just north of the Maribor city park is the nearest farm to experience true farm tourism.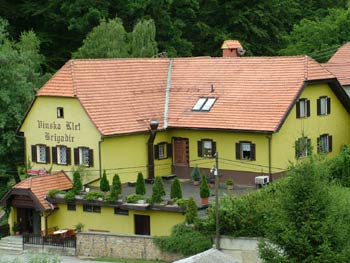 Which wineries, mini farm hotels and tourist farms do we like most?
Milan is always very emotional about the subject of farm tourism so it's better I let him speak about it...
...OK, let me put this straight,
they are all good
or else they wouldn't survive the competition. But people like different treats so my intention is to tell you which ones I really enjoy visiting and why.
First of all I decide what I want to do...
Walks to wineries
If it is walking with my friends and spending an evening in one of the wineries surrounded by picturesque vineyards then I walk up the hill called Urban (pronounced: woor-ban).
You can see Urban with its famous church from almost anywhere in Maribor. It is situated just northwest of the city center and it normally takes us an hour to walk through magnificent woods and vineyards to the top...
Urban with its church is one of the most popular places around Maribor.
...where we normally crown our endeavor with an unbelievably large cold-cut and a bottle of local wine in one of the most
beautiful wineries
.
At least three different walking routes lead to Urban and they are all well marked. One of them starts with two wineries that are among the best and closest to the city center (actually a 10 minute walk away).
Brigadir
and
Anderlic
(pronounced under-leech) are just a few hundred meters apart but always busy and tables must be reserved during weekends.
The beauty of these paths is that they are dotted with wineries and tourist farms so a wine crawl is imminent. It is immediately clear that farm tourism is the lifeblood of
this part of Slovenia
.
Sunday lunch treat
Yes, we all absolutely love Sunday lunch at one of the numerous beautiful tourist farms around Maribor. Marvelous food and wine, very nice people everywhere, gorgeous scenery...
could we possibly ask for more?
The most scenic part of the Maribor wine region can be found traveling just north or northeast of the city. Its population of wineries and tourist farms is enriched by a number of mini farm hotels that offer a true Styrian farm life experience.
Like all other tourist farms Bracko is clearly "wineposted"...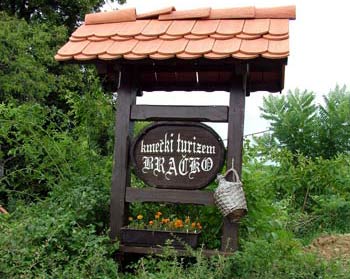 Vineyards are everywhere shaping the landscape with some magnificent forms and offering breathtaking views over Maribor and Pohorje. Even the Austrian Alps some 100 miles away can be seen on a clear day.
The north/northeast Maribor wine region requires a car so people mostly drive to farm hotels and wineries for a Sunday lunch or get a
taxi
which is a popular choice if staying for a late night party.
Wines of this region
this part of Slovenia
are just gorgeous and it is nothing special to see a notice board full of national
Slovenian and international prizes
for quality but prices are really crazy. A bottle of an award winning wine can be bought from around $5 (€3.6).
Staying on a farm
Many tourist farms are like mini farm hotels offering not just superb wine and delicious home-produced food but a
true farming experience
. They are dotted all around Maribor so you can easily travel back to "civilization" but people rarely do that.
The main idea behind this type of a farm tourism is that visitors stay on a farm helping farmers in every day activities. Many farm hotels have horse stables, a variety of other animals and almost all proudly own vineyards.
The idea is absolutely brilliant and most of the guests are regularly coming back, traveling thousands of miles every year to come back to the nature.
Mountaineering
Yes, I said
Pohorje
is a mountain but it's lower lying edges are full of
picturesque wine roads
and farm tourism is blossoming. The wineries and tourist farms are a bit different from other regions around Maribor due to their mountain-like nature.
Horse stables are almost a must in this area and mountaineering is the most popular activity. We would therefore normally have a decent mountain walk before descending to one of these tourist farms.
They are well known by
excellent food
in disproportionate quantities (probably assuming their visitors are really hungry after being in a mountain for a whole day).
Pohorje - beautiful landscape and tourist farms dotted everywhere...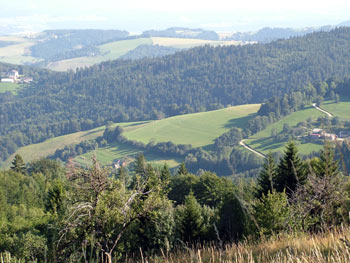 Yet again all this is still within 15 minutes drive from Maribor city center so we basically travel to any of these tourist farms and experience their charms within a day...
...but then, we do come back quite often while visiting other wonders in and around Maribor!