Brigadir tourist farm holidays


This little winery and a farm hotel is the closest tourist farm to Maribor city center you can get. It's located a five minute walk north of Maribor city park yet in pure tranquility of surrounding vineyards and forests so no travel necessary. No wonder then we are their regular visitors.
An amazing detail about Brigadir that you only notice after a while are their regular guests. They have a British family who have spent their holidays here for the past 10 or more years. They regularly host birthday and other parties for the same companies years over with bookings made months in advance.
Beautifully maintained gardens and regular
guests are a norm in Brigadir.
And what about food? Milan is always saying that we've got to go to Brigadir for the baked beans with a beer sausage whenever we travel to Maribor. It's perhaps not the first thing he does but we certainly do visit them at least once a visit. The food is simple, home made but tasteful and freshly made. Just the way tourist farms should really be...
Baked beans from a real fire oven and
a pair of beer sausages...Milan is crazy about this!
A plate for two...yeah right...
as if I hadn't eaten for 2 days!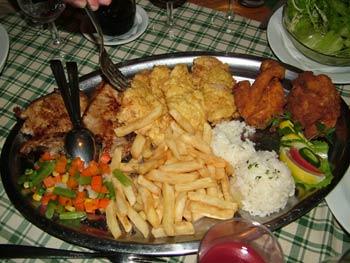 ...but you've got be hungry with very generous portions. A bowl of soup for three people is actually more likely to feed 5. As all the rest Brigadir produce their own wine. They have something for every taste but I do prefer sweeter wines.
No wonder I was happy...look at the bowl of soup!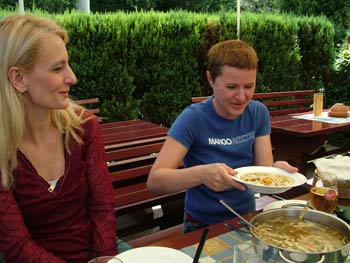 You may get bottled wine at this tourist farm but a "Stefan" of table wine will be equally good if not better. Stefan is a local term for a pitcher. The dinning room is actually a converted part of a wine cellar but during Summer months we normally dine on their beautiful and very well maintained terrace-garden just outside of the main building.
Tourist farms and farm hotels are normally much cheaper than regular hotels and restaurants hence their popularity. A regular meal for three would thus be just $50! Imagine, that's much less than most of the restaurants never mind the quality and the surrounding natural beauty.
You see, that's why we visit Brigadir so often. Close by farm tourism dining is simply a must do for us!
Address:
Brigadir
Za Kalvarijo 65
2000 Maribor
Tel: +386 2 250 85 10
e-mail: peter.brigadir@triera.net
Opening times:
Monday - Thursday, Sunday and holidays: 10am - 11pm
Friday - Saturday: 10am - 12am