Maribor hotels
We've heard visitors in Maribor hotels saying:
"Can you imagine, it's winter, you're sitting on an open hotel terrace in front of a thermal water pool, drinking your favorite drink...
...then out of the blue you make up your mind, dress up, walk out of the hotel, put on the skies and off you go...to
world-cup skiing...
"
A 5-star Hotel Habakuk is just yards off the world-cup skiing slope. The distant hills are part of the Maribor wine region.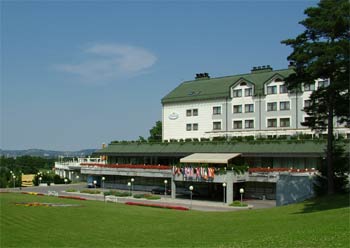 This is actually
one of Maribor hotels
, a 5 minute drive away from the medieval city center!
Geography simply works here, period. Well, Slovenia in general is very well placed anyway.
The main point is that all hotels are situated right where you need them. The most impressive of all Maribor hotels is a
5-star spa hotel
Habakuk located right, but really right beneath the
world's oldest
women skiing competition slope. It is one of the most prestigious ski hotels in Slovenia offering a range of services:
wellness center
medical center
medical center
diplomatic club
Newly refurbished Hotel Orel overlooking the pedestrian Castle Square.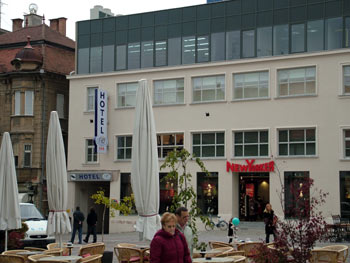 Yet still, you may actually want to stay right in the center of Maribor. Good, there is
a 3-star city
hotel Orel
overlooking the pedestrian Castle Square or
a 4-star business
hotel Piramida
just, yes, again, just a few walking minutes away. It is all so unbelievably close and distances are always measured in minutes.
There is another small hotel conveniently located halfway between the Maribor city center and Pohorje. The
3-star Garni Hotel Tabor
is a family run business. We have never stayed there but some of our friends have and they were really happy with it.
Blimey, there is also Pohorje with a selection of
cottages
, motels and hotels.
Four star Wellness and skiing
hotel Bellevue
is one of them. Being just recently renovated it stays right and yet again just right above the
world-cup slope.
Maribor has started to realize its potentials so almost every time we visit the city a new family-run hotel is opened. Maribor hotels are mainly small but that normally means a much more personal service.
My husband visited Slovenia as a delegate at the 27th PODIM conference in April 2007 held at hotel Habakuk and stayed in hotel Piramida a few years earlier so he is able to tell you some more about these two hotels. Whatever the case, we know these Maribor hotels from our own or friends' experience and our impression is that they offer decent and reasonably priced accommodation for families and business people alike.