Maribor's best restaurants
Well, we have visited many of the best restaurants in Maribor and the selection is pretty good. Yes, we simply cannot resist restaurants in Maribor. From Slovenian and Balkan to Chinese and Mexican the selection is really good with many restaurants being "well hidden" but always full!
Although we mentioned food several times already, eating abundance of food in decent restaurants is what Slovenians really like and Maribor in particular is known by this ancient habit.
During every vacations in Maribor we try food in another new restaurant. Yes, the number of restaurants has grown since we moved to the UK. Our friends in Maribor regularly inform us about new eateries and it is sometimes hard to keep up although we shouldn't complain about that...
OK, Slovenia is not France or Italy and most Slovenian restaurants are not Michelin stars eateries but they
serve delicious food for every taste and pocket
. Hey, that's what we believe best restaurants should be all about, right?
Now that is what I call a salad (Restaurant Veronika, Pohorje).
Best restaurants serving Slovenian food
Slovenian food is heavily influenced by Balkan, German and Italian cuisine but there are restaurants in Maribor that proudly offer
authentic Slovenian food
.
We regularly visit restaurant Veronika on Pohorje some 7kms from the center of Maribor. The restaurant itself is nothing special but their food, a creative mixture of Slovenian dishes, is absolutely stunning with top marks from many food magazines. No wonder
Veronika is among the best restaurants
in Maribor.
"Stajerc - Styrian" (pronounced: Shta-ertz) was one of Maribor icons with their
own mini brewery
and pristine Slovenian dishes. It is located centrally in the heart of Maribor pedestrian area. The restaurant has recently seen a change in ownership and is now called
Sarika
(pronounced Sha-rea-ca). It is even nicer than before and is now definitely one of the best restaurants in Maribor.
Within an idyllic scenery of one of the most beautiful central European city parks stands restaurant
"Pri treh ribnikih - By the three ponds"
(pronounced: pree traeh rib-nick-ieh). One of their
specialties
is a traditional fresh mushroom soup served in a bread crust (...now this really is hard to resist).
Rozmarin
is a
chic Slovenian restaurant
in the city centre of Maribor with colorful selection of different traditional Slovenian dishes. Many actually believe this is the best restaurant in Maribor. But there are many other fantastic restaurants on the outskirts of Maribor that we will visit on our Slovenian holidays in the future.
Pizza for one person! This is not a joke, it didn't fit because it was almost two feet in diameter.
Best restaurants - pizzerias
I admit, we cannot defy going for such a pizza treat at least once or twice a visit in Maribor, they are sooo delicious!
Believe it or not but
you will probably have one of your best pizzas ever right here in Maribor.
Pizza is, like everywhere,
extremely popular
although Slovenians treat pizzas with respect so there are no chain restaurant pizzerias here (they probably wouldn't survive anyway!).
The best so far were truly spectacular pizzas in restaurant
pizzerias Pomodoro
,
La Cantina
,
Vila Rustica
, Sidro,
Ancora
and Al Capone in
Europark
shopping mall. No words and not even the best pictures can describe this experience.
But amazingly, every time we visit Maribor our friends tell us about a new superb pizzeria out there. As I said, it's hard to keep up but I am determined to visit them all!
Best restaurants - international cuisine
There are plenty of restaurants with international cuisine in Maribor but two stand out from the crowd.
Takos
comprises of
two wonderful Mexican restaurants
. One is located in Europark shopping mall and targets day-time clientele with wonderfully rich breakfasts and lunches while the Old Town (Lent) variation of Tako's offers great lunch/dinner menus and turns into one of Maribor's top pub style bars after dark.
These are the best Balkan burgers I've ever tried.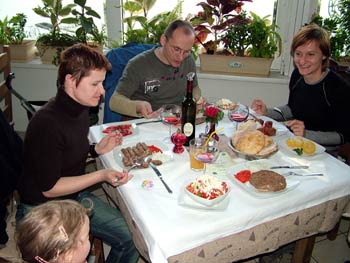 The other is
Gala Zar
(pronounced gala zhar),
probably the best
Balkan style grill restaurant with the
best burger style dishes
I've ever had. The restaurant offers a true Balkan way of dinning...
...enjoy to the last mouthful and to the last drop, wonderful!
There are good and there are best restaurants. The above ones are our top choices so far but we will visit more restaurants in the future.