Shopping in Maribor
Europark


Why is shopping in Maribor Europark so popular? The main reason is its spectacular position just off the river bank and a short walk across the bridge from the city center. That makes it one of the best placed shopping malls I have ever experienced. Shopping in Europark is superb and definitely on a par with world-class shopping of much bigger European cities.
Its 9 restaurants and cafes are simply too tempting and my shopping in Europark starts with a coffee in Takos, a Mexican restaurant-cafe with excellent and really tasty food, from breakfasts to dinner menus.
Europark and city rooftops from the
Maribor cathedral in the pedestrian zone.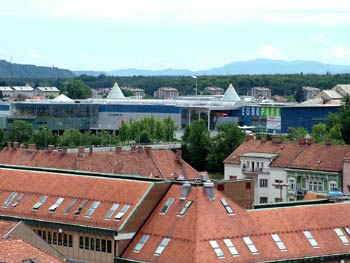 There is also a local confectionery and a really good pizzeria in Europark...
...oh my, I'm talking about food again...but I can't help it food is really important in the Slovenian culture.
Europark has just undergone a massive extension bringing in even more world-class shops. Accessorize, Burlington, Esprit, Hugo Boss, Swarovski, Tom Tailor, Levi's, Palmers, Samsonite, United Colors of Benetton, Street One, Mango, Zara, Okaidi, Bata, H&M, Peek&Cloppenburg, Geox, Lacoste are just some of the 73 shops and many are on my regular-visit list.
Europark from the main restaurant's terrace.
But that's not all, Europark has been obviously built to please the locals and tourists alike. There is a bank, a number of cash machines, a children play area, bakeries and chocolateries, a huge supermarket, art and gift shops, a tourist agency, an exchange office, a drugstore, a number of cafes and restaurants, a locksmith and whopping 2600 free parking spaces and many more....
...enough for me, honest!
Yep, shopping in Maribor and Europark cannot start
without a chat over a cup of coffee.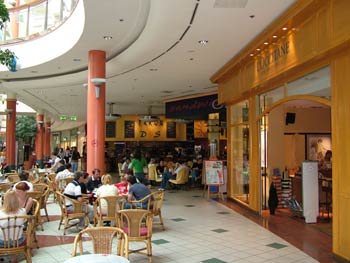 One of the shopping "streets" in Europark.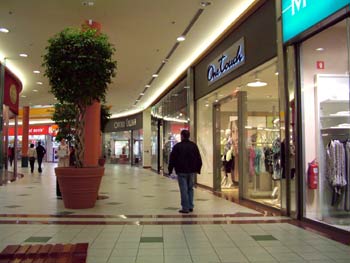 "Carobni svet", a kids play zone is on the left.
You can imagine how much time we spend here...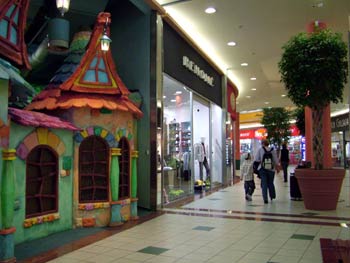 ...and we usually finish shopping in Maribor
in one of the toy shops. Marusa and her cousin Sara
exploring a new collection.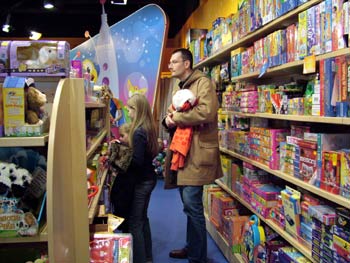 Europark is not just about shopping, however. The mall regularly hosts mini concerts, fashion shows and local craft fairs. I sometimes end up having just a cup of coffee there, not shopping at all and this still makes my day.
Europark opening times are as follows:
Monday to Friday 9am to 9pm (restaurants and cafes are open till 10pm)

Saturday 8am to 9pm (restaurants and cafes are open till 10pm)

Sunday 9am to 3pm

Drugstore (Monday to Friday 9am to 7pm, Saturday 8am to 1pm, closed on Sunday)
Although Europark is really close to the city center the two shopping precincts live alongside each other really well. I guess the reason is Maribor with its geographic position attracting local, as well as Austrian, Croatian, Hungarian shoppers and tourists...
...yet again the geography wins, making shopping in Maribor really easy and enjoyable.