Getting around Maribor
Getting around Maribor is so
easy
(thanks to our ancestors who chose to settle here in the ancient times). Everything is
unbelievably close
, it is safe and the quickest way of getting around Maribor, and the medieval city center is therefore walking. Though car rentals are best to explore the countryside and other places in Slovenia and beyond.
OK, that doesn't mean you don't need public transport. After all if you wish to get to the world cup skiing slope and
Pohorje
you need
a bus or a taxi (or a bicycle)
. The local bus routes in Maribor connect different parts of the city really well. Buses are popular and offer inexpensive and sustainable way of travel.
Central bus station in Maribor is one of the biggest in Europe.
Car rentals
Because Maribor is so close to many popular destinations around Slovenia, Austria, Croatia, Hungary, and even Italy is only 2 hours away, car rental is definitely an
attractive option
 for getting around Maribor.
It is just hard to believe how many different attractions are on your doorstep if you're staying in Maribor. Budapest, Graz, Trieste, Vienna and Zagreb are all within 2 and a half hours drive from Maribor not to mention numerous regional parks, the largest lake in the European Union (Balaton in Hungary) and several national parks.
If you're indecisive and want to book a car when already in Slovenia then you can do that in most tourist agencies but rates can be pretty high. Sometimes more than €67 per day for a weekend booking.
Local car rentals are a much better option although they get pretty busy due to small fleets and regular customers. The service however is normally really good with a personal touch from family owners.
You can also book a car online and simply pick it up at the airport. Prices come from as low as €20 per day for a one week contract. Online car rentals are definitely attractive due to additional internet discounts.
On the other hand, booking a car in advance removes an unnecessary burden of having to book it once in Slovenia and in this case you may not even get a car!
Public transport
Visible red-ish buses are very successfully operated by a multinational Veolia.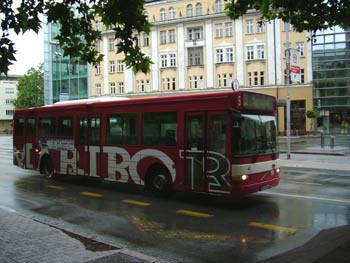 You've got a number of options with
bus fares:
a single bus ticket costs €1.10 if you buy it from a bus driver. But if you buy it in advance from local newsagents it will cost less. Multi-journey tickets are only available from newsagents and some shops.
Children bus ticket (6-10 years) costs €0.55
Mini bus ticket costs €0.55
Ticket for disabled people costs €0.55
Buses are particularly popular among locals and students. With a well thought through network and frequencies of every 10 to 20 minutes during weekdays, the buses are perfect for getting around Maribor. Bus stops are equipped with network plans and people will be happy to help you out.
The one line to remember though is bus No. 6 leading to the world cup Snow stadium!
Taxi
Taxis have become
popular
since the market deregulation in the early 1990's giving way to much cheaper fares. There is a myriad of taxi operators in Maribor so prices may vary with a 4 mile journey to the Maribor airport costing anything between €12 and €20.
Transport
from Graz airport (Austria) to Maribor costs around €60.
Maribor is an old city in Slovenia with a lot of history and culture is engrained in local people's minds. Hundreds of events throughout the year and numerous attractions around the city would easily require several days of exploration. Well, we're on it! The cultural day though is all about historical attractions and despite its small size it's surprising how many there are in Maribor. In fact, this is generally true for the whole of Slovenia.
It's very easy to get a taxi in Maribor, they are everywhere (Taxi Plus in this case).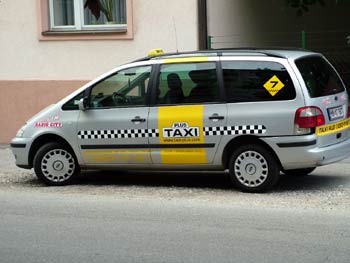 The two major taxi companies also offer credit card payments and most taxi drivers speak English or German:
Taxi Plus:
if you call from abroad their number is: +386 2 2517 151, and within Slovenia: 080 11 12. They also offer transport for up to 8 people per vehicle (4, 4+2, 6 and 8 passengers).
Radio taxi:
if you call from abroad their number is: +386 2 250 07 77, and within Slovenia: 080 12 22. They offer transport for up to 4 people per car.
Taxi becomes a real
MUST DO
for getting around Maribor with dozens of
tourist farms
around the city where wine and local produce is the most important part of the evening. Sometimes we use our own car and obviously don't want to drive back. Most companies offer an option of driving back your car...
...so there is no excuse for drink-driving...but you can still happily sing on the back seat!!!
Simply ask the waiter and the taxi will be called for you.
Slovenian railways
Trains are one of the best options for getting around the country. Slovenia is a very tiny country yet they have almost 800 miles of railroad lines and
fast Pendolino tilting trains
that are used to connect Maribor with the capital Ljubljana. They are nice and clean although the railroads in Slovenia are still too curvy...rollercoaster that even takes you from A to B (cool)!
Tilting Pendolino ICS trains connect Maribor with capital Ljubljana in just 90 minutes.

I particularly enjoy traveling with an intercity train from Maribor to the Slovenian seaside town Koper. This is a
traditional train
with compartments, radio, bar-restaurant and the return fare for this 5 hour journey is just €32 for a second class and €45 for a first class ticket. It is of course worth mentioning that Slovenian railways offer
numerous discounts for getting around
Slovenia and Europe.
The scenery, particularly for the last two hours before arriving to Koper, is just fabulous! Traveling on the edge of huge cliffs above the valleys with the Adriatic sea in the back is fantastic.
All major cities around Maribor can be reached by train and there are really
numerous discounts
available. Please, check
timetables
and
price lists
for
Ljubljana
(capital of Slovenia) and
Graz
(second largest city in Austria).
Bike rental
Renting a bike is
a good choice
if you stay in Maribor during spring, summer or autumn. Getting around Maribor with a bike is a particularly good alternative to cars for short trips in and around Maribor. You can always take a taxi, rent a car or use a public transport (bus or train) if you want to visit places outside the city.
There are various bike rentals dotted around the city:
TIC Maribor
, Partizanska cesta 6a, phone:+386 (0)2-234-66-11
You can rent a bike up to two hours for €1, and for the whole day for €5. You will need to leave a deposit (€20 for bicycle and €10 for a child seat and €5 for a helmet). The rental season starts on 1 April and finishes at the end of October - depending on weather conditions.
Opening time:
Monday-Friday from 9.00am - 7.00pm (you need to return bike by 6pm)
Saturday, Sunday, holidays from 9.00am- 6.00pm (you need to return bike by 5.30pm)
You will need an ID to fill a form.
e-mail:
tic@maribor.si
Pekarna Magdalenske mreze
, Ob zeleznici 8, phone:+386 (0)2-300-78-70
You can rent a bike for free, but you have to leave a deposit as well (€20 for bicycle and €10 for a helmet). The rental season starts on 1 of April and finishes at the end of October.
Opening time:
Monday-Friday from 10.00am - 6.00pm
You will also need an ID to fill a form.
e-mail:
info@pekarna.org
Maribor railway station
, Partizanska cesta 50, Maribor
Please, check for renting bikes in tobacco shop in the main railway station building.
Hotel Habakuk
, Pohorska ulica 59, phone: +386 (0)2 300-81-00, 300-81-30
Hotel Habakuk offers free bike rental to all their guests.
Maribor's city hotels (Hotel Piramida and Hotel Orel)
also offer free bike rentals to all their guests.
All prices for rental and deposits will be subject to change but we will keep track of these changes and update the information here.
Whatever the option you chose to take, Maribor attractions are always close by with short travel times so you can really enjoy your trips to the full. As I said, getting around Maribor is a no hassle way of travelling.
Jurcek the train
Jurcek (pronounced Yoor-chaek) is a really good way of sightseeing and getting around Maribor during summer. Its name originates from an infamous Mariborian called Jurcek who died more than a decade ago. He received his fame from his unique friendly character and a little radio player that he carried around and listened to wherever he was. He soon became city's icon and this train is now dedicated to Jurcek, probably the most colorful and friendly citizen the city has ever had.
Our daughter is really looking forward to take a few more rides during our summer holidays in Maribor. Everyone loves getting around Maribor with it, kids and adults alike and it's really interesting how popular this train has become in the past year or so!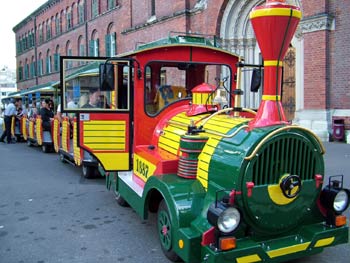 Train timetable:
From 1st January 2011 to 28th February 2011 Jurcek the train is available only for guided tours.
From Monday to Friday:
- 11am, 12pm, 4pm, 5pm
Saturday and Sunday:
- 10am, 11am, 12pm, 4pm, 5pm, 6pm
Train doesn't operate in rainy weather.
You can purchase tickets when boarding the train:
Ticket prices (without a guide):
-children (0-2 years): free
-children (2-14 years): €1.50
-adults: €2.50
Ticket price with a Slovenian guide:
- children: €3
- adults: €5
Ticket price with a guide in foreign language:
- children: €3
- adults: €7
You can rent a train for 1 hour for €100.
Guided tours are possible in the following foreign languages: English, German, French, Italian, Spanish.
You need to call 10 days in advance to book a specific language guide (+386 2 2290 934).There is a surcharge for a foreign language guide but getting around Maribor will be even more interesting knowing what you see on the way. The train provisionally operates until the end of October so in summer the Jurcek train is definitely our choice for getting around Maribor.