Day by day guide through Maribor
Why do we use guides like this? It's simple! For us, having holidays is all about
seeing nice places, relaxing, a bit of thrill, eating good food and a bit of entertainment.
Do we normally get that from travel agents or guided tours? Perhaps, but they usually operate by strict timetables and we are not in full control so this might or might not suit us. On the other hand, by doing things on our own, we usually end up with a number of more or less accurate but also impersonal travel books.
Nevertheless, how many travel books have you actually seen about Slovenia? Not many, I guess. That is why we came up with the idea of producing this particular page. It
will save time and money
and you'll be in full control of your holidays in
Slovenia
.
Viewing day by day guide with your mobile device
The day by day guide through Maribor resembles Milan's first experience of London. He didn't have enough money to afford properly guided vacations and hardly enough time to read through detailed travel books. But he found a map that made his 10 days in London magical. Each day is a separate walk with all the attractions highlighted on the map. So basically, he just followed the map, explored a bit on his own and by doing that he has seen more of London than most of tourists will ever see.
He found this really helpful so why not having something similar for Maribor-but online! After all it is even more difficult to find all the hidden gems in a city that is less known and not very well covered in travel literature. So here it is, a day by day guide through Maribor.
It suggests what you should visit in and around Maribor but you can also easily adapt it to your needs. For example, you might want to do something that is described in Day 1 and combine it with something else from Day 2 -
power to people!
Maribor is full of history and surrounded by natural beauty.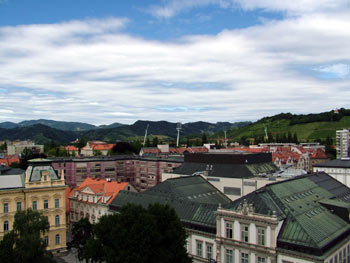 Maribor is a small city but with so much
history, parks, wonderful cafes and restaurants
it's actually quite difficult to squeeze all that in a single day.
This is only one option so feel free to adjust it according to your rhythm and needs. It offers a glimpse of Maribor history,
wine culture
, nature and it's a walk so there is no need for any kind of transport if you stay in one of the city center hotels. It's actually based on our favorite walk through the city that has become a norm in all those years of living and holiday making in Maribor.
Pustolovski park (Adventure park) Betnava is in one of the city forests and offers impressive facilities for kids and adults alike.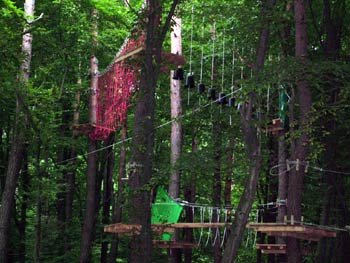 Yep, it's not just about slow walks through the city. Maribor can be an adventurous place. In fact, Maribor has got some pretty impressive facilities rarely seen elsewhere in
Slovenia
.
Adventure parks
, treacherous
mountain biking routes
and
unusual sports
are all here. The adrenalin day guide offers a mild alternative with more to come in the future. We're keen to try them all although I think some of them are simply not for me so let's leave them to Milan who is really looking forward to our next holidays in Slovenia!
An impressive Franciscan church is one of Maribor's landmarks.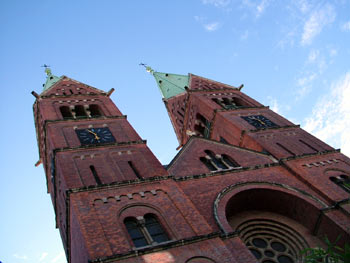 Maribor historical buildings and attractions can be a really good food for your mind. There is a
medieval castle, churches, squares, theatres,
and very good
national
and
private galleries.
Maribor is an old city in Slovenia with a lot of history and culture is engrained in local people's minds. Hundreds of events throughout the year and numerous attractions around the city would easily require several days of exploration. Well, we're on it! The cultural day though is all about historical attractions and despite its small size it's surprising how many there are in Maribor. In fact, this is generally true for the whole of Slovenia.