Maribor Slovenia Travel Guide
We aim to help you enjoy holidays in Maribor 100% of your time. After all, ideal holidays are all about relaxing and not constantly looking for decent restaurants, hotels, events or museums. We will show you all that right here, from our own experience so you can enjoy your
vacations without a worry
.
To tell you the truth, this is actually great fun! We are tasting food, enjoying marvelous Slovenian wines, particularly those from the Styrian wine region, riding bikes, skiing, flying, clubbing...
...and once you start this, it really is never enough.
Find Maribor on Google Maps.

We originally come from Maribor and
travel
to Slovenia at least twice a year tasting and experiencing all its wonders over and over again. In fact, our vacations are always too short for it all.
Maribor
is a small city in Slovenia - Europe but our friends, some of whom come from drop-dead gorgeous travel destinations, are always surprised at its attractions. One of the reasons for a surprise is the size of the city and its
unique
geographic position in Europe.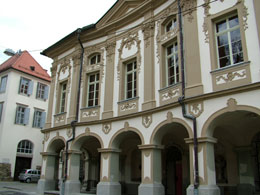 We can hardly wait for our next vacation months before going back, to taste mouthwatering food in marvelous little restaurants, pizzerias and tourist farms.
An amazing wine tasting experience in a traffic-lights controlled mega cellar right underneath the city center or at one of beautiful tourist farms around the city is always a must do. Well, you probably haven't even heard of Slovenian wines. After all it is only a tiny little country. However, you will quickly realize why the country keeps most of the wines for its own people!
We totally love an incredible Lent festival experience that is the pride of the city and one of its best kept secrets. Just imagine! A warm summer night, cool beer, a world performance on an open waterfront stage and it is basically almost for free.
How could we possibly be there without going to Pohorje - such a rewarding mountain. I don't think it is an exaggeration if I say that Pohorje is a true mountaineering, hiking, skiing, mountain biking and adrenalin HEAVEN!!!
Visiting the city is not just about food, wine and sport. Maribor is a medieval city with beautiful churches, galleries, museums, with great theatre, a beautiful castle, mansion and more.
We never skip a day in the city park or a walk at the University botanic garden. My daughter is totally crazy about animals so every time we are in Maribor she wants to visit the city aquarium and terrarium.
We live near London-England but still enjoy excellent shopping experience in Maribor.
If you are more of a "cafe type" like my husband then this city is the place for you too. Every time we spend our holidays here we discover new cafes around the city. They are dotted everywhere and serve great coffee and tea.
Because of our very busy life in England we hardly do any clubbing at all. However, back in Slovenia our grandmothers can do the babysitting so that Milan and I can enjoy a night out in one of its great clubs and pubs.
My husband regularly visits property agencies. He is always looking for a good property which could be our new investment. Maribor seems to be pretty well hidden from international real estate trade. While the capital Ljubljana and Bled, one of the best known tourist destinations in Slovenia, already have prices comparable to Western Europe, Maribor is still refreshingly inexpensive.
What I really like about the city is its geographic position. Every holiday we make a few one day trips around Slovenia, Austria, Croatia, Hungary or Italy. How is that possible???

Well, the city is only a 10 minute drive from Austrian border and 40 minutes from Graz, Austria's second largest city and two and a half hours from Vienna, the capital of Austria.

Maribor is an hour drive from the capital Ljubljana and two hours from Croatian capital Zagreb.

Two and a half hour drive to the west brings you to Slovenian or Croatian Istria or Trieste in Italy.

Drive two hours to the east and you will end up in Budapest, the capital of Hungary.

Hey, if this is not amazing!

But there is more! This cute little Slovenian city is within two hours from 4 international airports! No wonder then so many shoppers and tourists visit this marvelous little place.


It is surprising but Maribor holds several records that are not just for the book of records but can be experienced, tasted...basically felt with all your senses.

OK then, let's see if:


Guinness Book-certified oldest vine in the world



world's oldest women skiing competition



one of Europe's biggest classical wine cellars



Europe's longest floodlit ski run



Lent, one of Europe's biggest festivals



one of the best known aquariums in Southern and Central Europe



One of the oldest flying clubs in Europe...
can make an impression.
So, are you ready?
Dominika, Milan, Marusa and Oliver
_______________________________________________________________________
Content
Farm tourism really is the thing for my husband! More than 100 wineries, mini farm hotels and picturesque tourist farms around Maribor are ideal for food and wine lovers.
Air travel to Maribor is easy via London. On top of a direct connection between London Stansted and Graz served by Ryanair Maribor is close to four international airports serving low-cost airline routes to London.
Our experience of best restaurants in Maribor is absolutely fantastic. These restaurants are no nonsense, just good food eateries and what a bargain - typical Maribor I would say.
So what is our favorite place in Maribor? Well, we have visited plenty and although well hidden they are our favorite places and events worth a travel.
Getting around Maribor and Slovenia is easy. There are numeous car rentals but we sometimes travel by train and bus with good connections to major nearby destinations. However, we would advise you to travel by car. After all, many of the favorite places are well hidden to public transport.
It's good to know these things! From currency to doctors, drugstores and tourist information offices in Maribor. For your ease of mind we have collected some important information you may need while staying in Maribor.
We've created the Maribor day-by-day guide by doing these activities ourselves. This guide will help you explore Maribor at your own pace, in a true holiday spirit.
I am tracking local events in Maribor. Maribor is a small city but numerous events are often well known only to locals and festival Lent is a good example. Well, this guide should help you out!
Stunning natural beauty and plenty of record-breaking history make Maribor hotels a real bargain. There is a hotel for every taste in Maribor with more to come in the near future.
Maribor and Pohorje are like one organism. World cup skiing, world cup mountain biking, adrenalin parks, ancient forests, lakes and many other attractions can be found on Pohorje. Pohorje is a mountain that is always full of surprises and there is always something we can do up there, and it is so close to Maribor.
Maribor is one of the cheapest, safest and friendliest places to live. Real estate in Maribor is still inexpensive offering some great investment opportunities although we would rather recommend living there.
Maribor can be really proud of shopping experience it's got to offer. We are often doing our shopping in London, a world metropolis but hey tiny Maribor is not lagging behind. As I said, Maribor rocks!
Let's take a look at our vacation snaps and check why holidays in Maribor-Slovenia are so precious. Unbelievable but there is so much to do in Maribor.
The Maribor blog keeps you up-to-date with all changes I make to the maribor-slovenia-travel-guide.com website so please, subscribe here.
It's not just about our best Maribor experience, it is also about yours. So please fill in the form and send us your best of Maribor.
Best ice cream in Euorpe on a map? Yes, you and me in the search of the best ice cream in Europe. Of course, Maribor is one of the places where ice cream is simply delicious.
Search through our Maribor Slovenia experience with a custom search engine.
Traveling around the world without latest news? Even a travel destination like Maribor requires the latest news to be sure your holidays are in the right time.
These Europe travel sites are very comprehensive travel guides and there is not much more needed to make your European holidays a fantastic treat for the whole family.
Would you like to share your knowledge about maribor? Great, find out how you can submit your story or tip here.