Your best Maribor experience
Can you share your best Maribor experience with us? I've got my Maribor best but it would be really cool to have yours too. Instead of only me telling you about our best Maribor experience why not sharing our wonderful stories with all the visitors who are yet to discover this cute little Central European city.
Would you like to send some photos showing your best Maribor experience? That'd be awesome so go on, provide your e-mail address and I'll let you know how to send photos to me.
About us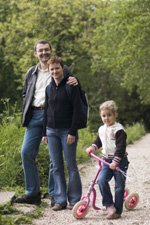 Well, this website is more about what you wish to see and visit in Maribor but I guess it is appropriate to say something about who we are. What can I say about us to be worth reading? Perhaps that we are a family originally from Maribor (Dominika, Milan and Marusa). We now live in the UK due to my husband's job and this may well be the main reason for even thinking about building a website of this kind. We love Maribor yet we now visit this marvellous city as regular tourists. In effect this places us in a unique position where we can write about Maribor as local citizens and outsiders in the same breath.
Of course even that way there is always something new and all this now makes our experience of Maribor more rewarding than it ever was when we lived there. We jump with excitement when there is something new in Maribor and try to make every effort to help improving what the city has to offer. Our aim is to continue with this and be even more proactive.
Ah yes, Oliver was born in August last year so it's four of us now! New image will be added soon and we will also have a separate "About us" page in a month or two.