Maribor Blog
The
Maribor blog
is a page with an up-to-date journal of changes I've made and includes:
new pages that have been added to the Maribor Slovenia Travel Guide as a result of our visits to new places in and around Maribor
major changes to the existing web pages (we revisit all the places regularly and things change)
up to date news about Maribor
That is if you want to come back and check it out yourself. However, you can
simply subscribe
to my RSS feed. To do that, please right-click on the orange RSS button (check the buttons just below the navigation bar on the left-hand side) and paste the URL into your RSS reader. In case that you keep My Yahoo, My MSN or Google personalized homepage, please click on relevant buttons just below the orange RSS button.
If you're not really into blogging and you're not sure what RSS is all about please click this:
What is an RSS feed?
Maribor Adrenalin Guide - light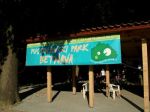 The light version of the Maribor adrenalin guide is what I call fun in the nature for the whole family! Hardly believable but all this is in Maribor so all you need is a local bus and here you are - adrenalin rushing through the head.