Shopping in Maribor
So, where do we release our
shopping spree
pressure?
I love to start in the city center itself, but my daughter really likes big shopping malls with play areas and plenty of space to run around (surprise, surprise...). Every time we come to Maribor we are impressed with what this small city has to offer. Well, for Slovenians it is all about experience and I so it is for us.
Pedestrian zone in the morning (Jurciceva street). I really enjoy the buzz of Maribor city center.
City center
Although not hectic, we like the atmosphere in Maribor. People truly enjoy
city center shopping
, they are well dressed, absolutely love to sit and chat in cafes and you will feel the vibe, normally a fame of much bigger cities.
I can't resist going first to small shops and then to large department stores like Modna hisa, a newly built Galerija Gosposka, H&M etc. But my husband is more of a cafe type so we have a regular meeting point in one of the cafes, bakeries or pizzerias dotted all over the place.
Inside Europark: It offers amazing experience with numerous world-renowned brands.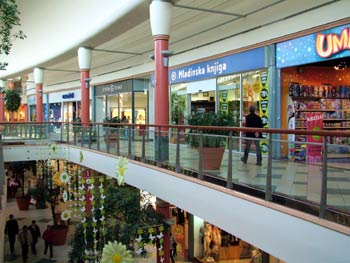 Having enough energy we then continue in Europark with 1,670,000 square feet,
119
carefully selected
specialized shops, boutiques, restaurants and cafes
and with half a million visitors every month it is the largest mall in Maribor and in north-east Slovenia.
And the best thing yet again is its location. Europark sits on the river bank right in the centre of Maribor and just 5-10 walking minutes from every city center hotel. Now, how cool is that!
Maribor open market when it was temporarily located underneath the Tito's bridge.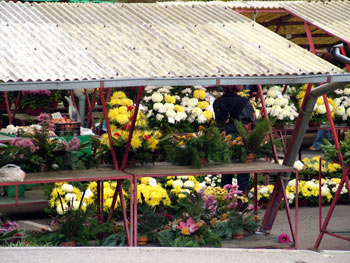 Open market
My husband never leaves Maribor without spending a weekend morning at its
large open market
.
He absolutely loves this place and so do I but our daughter enjoys it most. She is totally impressed by huge piles of fruits and vegetables, and she always wants to buy something from every stand at the market.
It is actually not so much about selling and buying! Of course you buy vegetables, fruits, flowers and other products, that by itself being an experience, but there is a good old restaurant-bar sitting right next to it and it is heaving (...hey, no wonder my husband likes it so much!).
Open market is also about socializing. Unless really in a hurry, we just go through for a walk and almost always meet some old friends ending up having a drink together.
The open market is now completely renovated and has re-open in autum 2008. Underground parking and shopping mall, 90,000 square feet and around 350 outlets and shops will be more than enough.
Why shopping blossoms?
It is something of a wonder! How come that Maribor, a city of roughly 150,000 inhabitants, can do so much shopping!? It is hard to believe how many different shops there are in Maribor but surprisingly they most live pretty well.
Yes, we have emphasized this already but an important reason could be Maribor's
geographic position in Slovenia:
Maribor is only 10 minutes drive from the Austrian border
40 minutes drive from Maribor and you are in Graz, the second largest Austrian city
then two and a half hours drive from Maribor and you reach the Austrian capital Vienna
Maribor is an hour drive from Slovenian capital Ljubljana and two hours from Croatian capital Zagreb
two hour drive to the west of Maribor brings you to Trieste in Italy
drive two and a half hours to the east from Maribor and you will end up in Budapest, the capital of Hungary
Hey, if this is not amazing!
But there is more! Maribor, this cute little Slovenian city is within two hours to
4 international airports
! No wonder then so many
shoppers end up in Maribor
and Slovenia.