City center shopping in Maribor


Shopping in Maribor city center is great fun because it is a bustling pedestrian zone stretching from the old town (called Lent) on the banks of river Drava to the beautiful city park in the north. My day in Maribor almost always starts with the visit to "mesto" as the locals would say (mesto = downtown).
The good thing is that Mariborians never abandoned their beloved "mesto" even after all the big shopping malls offered everything the world of shopping can give. No, it is a matter of pride to defend the local shops, to keep the buzz and maintain the way of life.
Marusa with a new sunhat from one of Maribor's
shops with a rich tradition.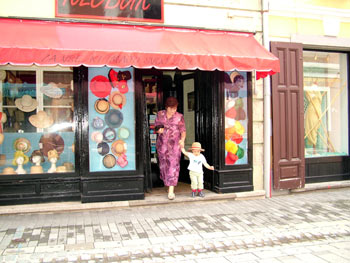 This sense of pride kept downtown Maribor alive even in the worst times of the 90's economic crisis but the city has seen vast improvements since the Slovenian full membership in the European Union.
The most visible improvements are in Maribor city center itself with buildings being completely refurbished day in and day out, with new boutiques, restaurants and cafes bursting.
I don't know anyone who wouldn't enjoy a walk or doing shopping in Maribor's beautiful pedestrian zone.
This particular shop (The House By the Blue Chestnut) is like from
the story books and the whole courtyard just off the pedestrian zone
is mystical including an infamous photo studio Hochstatter.
The House by the Blue Chestnut is one such shop that I simply can't miss out. Being placed within a peaceful courtyard a few yards off the pedestrian zone this shop is like going a century back in time. The feeling itself, standing in this small but very well stocked shop, is magical.
Very experienced shopkeeper always finds something when I'm struggling to decide what gift is best for my friends. The photo studio on the other side of the courtyard is even more mystical. Its owner, Mr. Hochstatter with his long white hair and a black hat is one of Maribor's true icons. He is an old-school photographer winning several prestigious international awards and comes from a famous family of photographers. Oh boy if this is not experience...
...no digital cameras, only good old and extremely expensive cameras and traditional methods. The photos are pure masterpieces...they speak for themselves.
Streets and squares in Maribor are often full of open
stands with locally produced arts and crafts
(this one is on the castle square).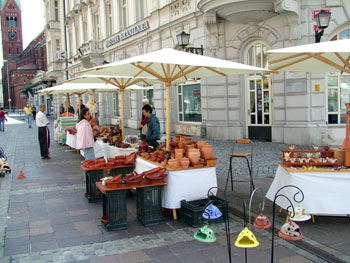 Shopping in Maribor is now even better:
the new GALERIJA GOSPOSKA shopping mall
with a great choice of well known brands.
The so called "CITY" shopping center is in the hearth
of Maribor.
There is plenty of other similar cute little shops where the time has stopped and they all hide a separate story full of history, craftsmanship and knowledge and I never fail to visit at least a few.
This particular craft shop is where we often end up
buying presents for our friends. They sell
homemade honey&ginger breads.
The red-glazed honey&ginger bread heart represents
Slovenian traditional decoration.
Because of them shopping in Maribor can be quite something special. While time is going on and new, modern buildings are springing up everywhere, there are still some corners and shops where time has simply stopped some 50 or more years ago, brilliant!