Shopping in Maribor - open market


Shopping in Maribor should be crowned by visiting its open market on a Saturday morning... These are words of my husband who is particularly keen to spend a couple of hours strolling through busy alleys between stands heavily loaded with fruits and vegetables...
...well yes, a bar-restaurant with friendly banter and laughter is also one of the reasons why he simply cannot resist shopping there.
There are 3 regular open markets in Maribor.
- Small farmers market at the Trg Svobode (Liberty square) every Wednesday in the morning.
- Organic market at the Glavni trg (Main square) every Friday from 9am to 2pm and Saturday from 8am to 1pm.
- The central open market situated just west of the pedestrian zone between River Drava and Koroska cesta (Koroska street). The central open market was recetly completely refurbished and was reopened again at the end of 2008. It offers an even greater choice of local produce, fruits and vegetables. It's a new modern market with a shopping centre and is open from Monday to Sunday: from 6am - 3pm.
Wednesday 10am at the Trg Svobode (Liberty square)
Farmers market (only locally sourced).
Open market shopping in Maribor City centre
often ends in laughter and chatting with local farmers.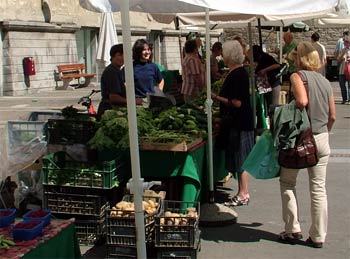 The central open market is open again.
What a relief for many Mariborians.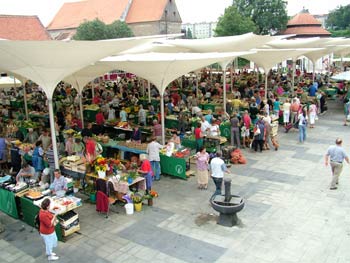 It's a new and modern market which offers
just about everything local farmers can offer.
And if fruits and vegetables are not enough
than you can pop into a Restaurant Zlati Lev
for freshly BBQ'ed lamb.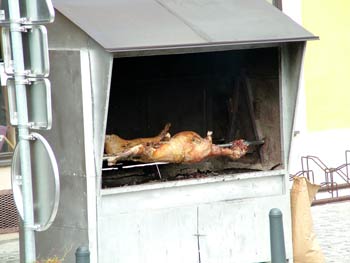 Apart from Farmers markets that are open weekly, other Maribor's open markets are permanent and open every day of the week though best shopping is during weekends (particularly Spring, Summer and Autumn when local farmers can offer abundance of fresh local produce).
My husband was born in Maribor so for him reliving his childhood memories of Saturday morning shopping at the central open market is like a religion...
...no wonder then he is off to the open market so often!
My husband Milan with a "typical" produce from the open market:
a 17kg (38 pounds) beast water melon.
It is a pure experience of the buzz, chatter and bargain that makes Maribor's open market such a great shopping place...
...not to mention all the fruits and vegetables (just look at the above water melon).