National Liberation Museum Maribor


I can still remember hours which I spent in National Liberation Museum. My teacher of a history took full class of teenagers to museum to teach us about happenings in Maribor and Stajerska region during World War II. The permanent exhibition in museum was really interesting, full of photos and other materials. All those photos and stories always made big impact on me and it was much easier to learn about our history that way, then reading boring books. After finishing secondary school I hadn't visited the museum anymore until our Easter holiday in April 2008. But this time the reason for my visit was not our past.
There was an opening of a really interesting art event From Olympia to Peking. The whole exhibition is dedicated to history of Olympic games from Olympia Greece to Peking Olympic games in 2008.
I didn't expect that I would be so emotional to see the medals and photos of all my sport heroes from our former country Yugoslavia and our present country Slovenia. I liked the part which is dedicated to the Winter Olympic games in Sarajevo (Yugoslavia) in 1984 the most. It happened first time that The Winter Olympic games took a place in a Socialist country.
Since I last visited the museum this neo-Renaissance villa in which the National Liberation Museum is housed was refurbished and neatly decorated.
The villa where the museum is located was build in 1890 in a neo-Renaissance style and is to be found just a few meters away from Maribor City Park.
The National Liberation Museum was build by well-known
Maribor businessman Scherbaum in 1890.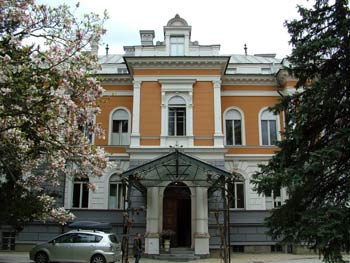 The performance of the pupils from Maribor's
secondary school.
The exhibition was opened by our gymnastic champion
Miro Cerar. During his international career
he won 21 European medals, including 10 golds,
to go with his six World and two Olympic
gold medals.
The collection of all Olympic medals won by
Slovene sport teams.
.
The official skiing outfit in The Winter Olympic games
in Sarajevo 1984.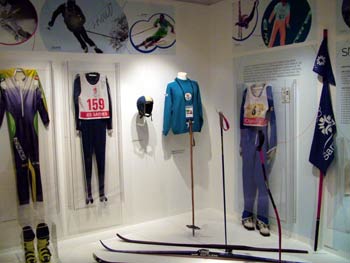 The .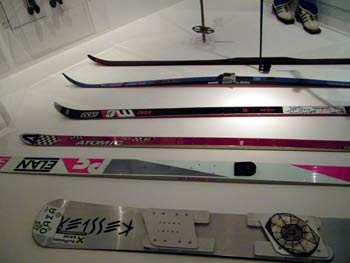 The Olympic dress of Yugoslav football team.
The official dress of one of the best basketball
players in Yugoslav team in 1968- Ivo Daneu.
The basketball team won silver medal on Olympic
games in Mexico in 1968.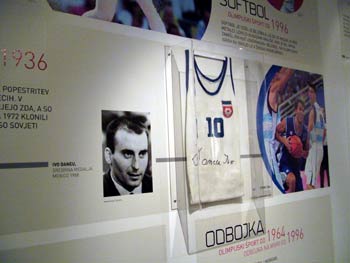 The canoe of our rowing champions Luka Spik and
Iztok Cop. They won the Olympic gold medal in Sydney
2000 and a silver Olympic medal in Athene 2004.
Slovenia gymnastic legend Leon Stukelj
(bigger picture), won 3 gold, 1 silver,
2 bronze Olympic medals.
komentar.
The Olympic torch from the Winter Olympic games in
Torino 2006.
For all sport enthusiasts and people who like sport this exhibition is a real treat and a great opportunity to see the Olympic medals, all the sport equipments and sportwears of all our sportlers who were so privileged to attend Olimpic games.
The exhibition will be open by the end of this year.
Address:
The National Liberation Museum
Ulica heroja Tomsica 5
2000 Maribor
Tel: +386 2 235 26 00
e-mail: info@muzejno-mb.si
Opening times:
Monday - Friday: 8am - 6pm
Saturday: 9am - 12pm
Sunday and holidays: closed
tickets: $2.25 or €1.5 (adults), $1.5 or €1 (children), $1.5 or €1 (students), $2.25 or €1.5 (pensioneers)
Events in National Liberation Museum
Guide to local events in National Liberation Museum

Date

Time

Performance

permanent

daily

Exhibition: PST! Maribor 1941-1945; entry