Pohorje
vacation Snaps


What a mountain! From vineyards to the first cable car in Slovenia, world cup skiing and mountain biking slopes, high peat moors and ancient forests, Pohorje is just so beautiful and everyone can find something to do here. Skiing and mountain biking are the two most popular sports here but many other activities have found home on Pohorje. Paragliding, hiking, horse riding and dog sledging are just some of them.
The Arena hotel bears its name from the world's lowest altitude world cup skiing finish and every January hosts hundreds of journalists during the infamous Golden Fox competition. Golden Fox is the world's oldest women skiing competition organized every January with tens of thousands of spectators.
Magnificent Pohorje mountain from the
northwestern edge of Maribor.
Views from the mountain are stunning - this one
shows Maribor surrounded by its vineyards just off
the Pohorje cable car landing platform.
The red cable car arriving to the upper
cable car station.
Austrian Alps and even Hungary can be seen on a good day from the top of Pohorje. These views grab everyone's attention. You can often find people just sitting in the grass silently staring into Maribor, distant open planes and mountains.
There are no photos, videos or words that could better describe experiencing this view by yourself.
Mountain biking competition on Pohorje in
the summer of 2006.
World cup mountain biking track is a must do
for many visitors.
Mountain biking competition - different teams had
their bases just off the Arena hotel (Snow Stadium).
Pohorje's infamous Snow Stadium is also
a summer fun park with loads of activities.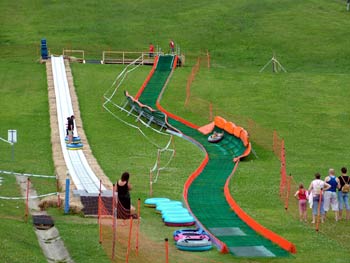 Marusa is enjoying on trampoline (Snow stadium).
At the back world cup skiing slope (Golden Fox).
...half a mile long Pohor JET coaster at the
Snow Stadium.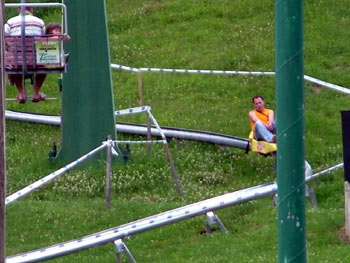 On the other hand, Pohorje offers fun all year round. American-Indian village and summer fun park are on its foothills, just a couple of minutes from a local bus stop and are among the most popular. It's no wonder then that a five star Hotel Habakuk is situated right next to these attractions.
Pohorje is a wonderful place for skiers with numerous
lifts and a 4.5m floodlit ski run.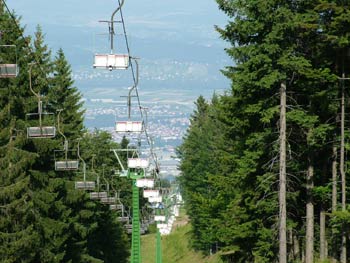 Pohorje ski slopes from Maribor city centre
(with plenty of snow in April).
We haven't been skiing for a few years now but thanks to Milan's friend Gregor we've got some winter impressions from our beloved Pohorje. I used to ski on these slopes a lot but we didn't have digital cameras in those times...
This is one of the ski lifts that would take you to the
top of the mountain.
Skiing offers spectacular views of Maribor with its
beautiful surrounding...
...you can often even see distant Austrian
mountains in the north.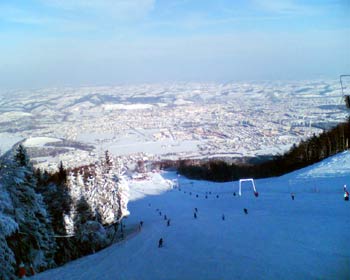 Our friend's son Lucijan participating in snow boarding
competition on Pohorje.
Pohorje is one of those attractions that make Maribor so unique. It is close to the city yet a completely different world. Vast ancient forests, unspoiled wilderness, sport activities all year round make this mountain really spectacular.
Well, how often can it happen that you drink a coffee in the center of a city and then half an hour later you are in the midst of ancient forests?
Pohorje is not only a place for sport activities.
Picnic with our friends somewhere on Pohorje
(one of our typical holiday pictures...).