Hotel Habakuk
Hotel Habakuk
(pronounced hubbah-cook) is with its
5 stars the most luxurious hotel in Maribor
. The location of the hotel is ideal. It sits just yards from the famous world-cup skiing slope right beneath the Pohorje mountain. Skiing and mountain biking are literally happening in a "back garden".
Night-time skiing
here is just amazing and words can hardly describe the feeling. The so called snow stadium offers around 4.5 miles of floodlit skiing slopes with 100 days of guaranteed snow.
The hotel from the south with Pohorje mountain in the back (open thermal pool is in the front).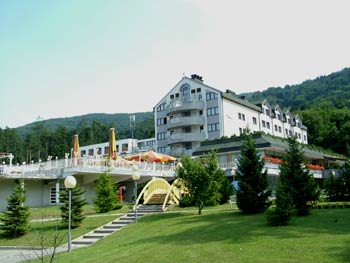 Surrounded by natural beauty of vast forests hotel Habakuk offers amazingly relaxing experience and fabulous facilities including:
137 rooms in total
six 484 square feet junior suites
three 667 square feet executive suites
wellness-spa center
six conference halls (from 50 to 500 people)
three restaurants
two bars
underground parking (parking surcharge applies)
internet connection in rooms and wireless elsewhere
My husband speaking at the 27th PODIM conference in hotel Habakuk (is he enthusiastic or what...).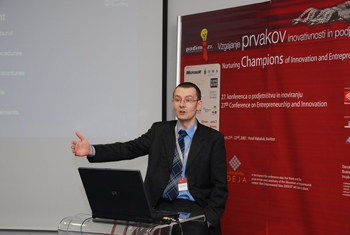 Milan visited hotel Habakuk in April 2007 as an attendee at the 27th PODIM conference and he is totally excited about it. Beautiful rooms, great selections of food, rare imported and local wines, excellent conference facilities, a relaxing wellness center...in short everything a busy delegate needs in one place.
It might feel strange but the high season in this hotel is actually December, January, February and just August during summer! Why? Because of skiing and that includes
Golden Fox, the oldest women skiing competition in the world
.
Daily rental rate (for the whole apartment)
Prices include spa and casino entry. Half board surcharge is roughly $22 per person per day while full board surcharge is roughly $45 per person per day. Children aged under 4 staying with parents stay for free while those aged between 4 and 12 benefit from a 40% discount. The hotel will charge you $14 for a baby cot per day, $9 for a pet per day and an extra 15% in the case of special events (e.g. Festival Lent, Golden Fox competition, etc.).
With all it has to offer hotel Habakuk is the best and also priciest hotel n town.