Restaurant Takos - Mexican restaurant in the heart of Maribor
Decent portions, cheap and very well managed. Those three characteristics best describe restaurant Takos. The two Takos restaurants (one in Europark shopping mall and the other in the old town) are definitely among the most popular eateries in Maribor.
Distinctive decorations reveal the Mexican nature of the restaurants and I've heard Mexicans saying that food in Takos is actually pretty close to the real stuff.
I haven't been to Mexico yet so I can't judge this but whatever the case I love their food and we have lunch in Takos at least once every single time we visit Maribor.
We rarely do serious shopping in Europark without
having a coffee or a meal at restaurant Takos.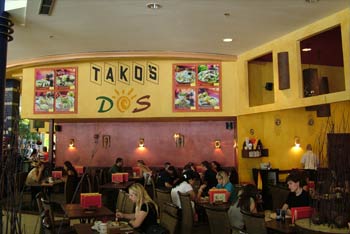 The famous "white coffee" in Takos, I really like it...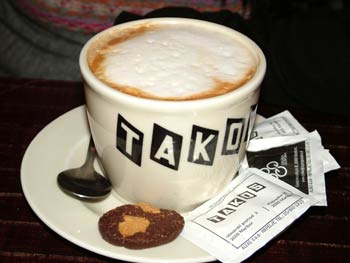 The owners have extended Takos in Europark a few years ago due to a sever lack of space but even now this restaurant is heaving with hungry and thirsty shoppers. Many foreigners shopping in Maribor are particularly surprised to find such a good restaurant in a shopping mall.
Taquitos de Atun with mashed beans, sweet corn,
fresh salad and jalapeno chilies.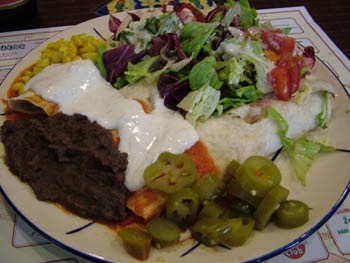 To be honest restaurant Takos is not a top class eatery but they are not even trying to be one. They just serve good Mexican food and drinks but without chain-restaurant feeling to it and I really, really like it...
...this kind of a bespoke approach is actually pretty much typical for Maribor and the whole region...
Verduras asad. y champinones with warm tortillas
vegetable and champignon stir-fry, rice and fresh tomatillos.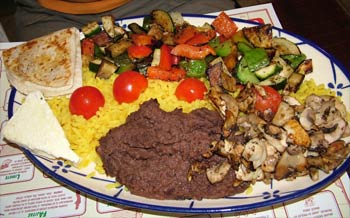 If you become hungry in the city center, this is the
entrance to another Tako's restaurant in Lent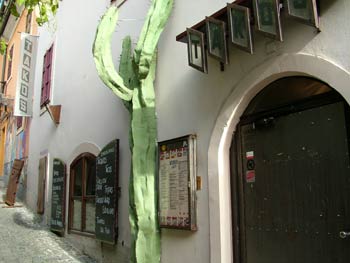 ...and boy if that place isn't cheap! We paid $23 for two people (see above) including two bottles of beer, juice and coffee with their specialty cookies. What a restaurant! No frills prices and decent food - excellent before or after my shopping expedition in Maribor city center or Europark shopping mall!
Address:
Taco's Restaurant in Lent
Mesarski prehod 3
2000 Maribor
Tel: +386 2 252 71 50
e-mail: info@takos.si
Opening times:
Monday - Thursday: 11am - 11pm
Friday - Saturday: 11am - 2am
Sunday: Closed
Address:
Taco's DOS Europark
Pobreska cesta 18
2000 Maribor
Tel: +386 320 38 63
e-mail: info@takos.si
Opening times:
Monday - Friday: 9am - 10pm
Saturday: 8am - 10pm
Sunday: Closed