Hotel Piramida
Hotel Piramida
(pronounced piramidah) is a really pleasant
4-star
hotel right in the
center of Maribor
in between the pedestrian zone and railway/bus stations. Its location is perfect for urban ramblers but nature is never more than 5 minutes away wherever in Maribor you stay.
In fact, all hotels in Maribor are conveniently located either in the center of the city itself or really close to skiing slopes.
Hotel Piramida modestly hiding its nice interior.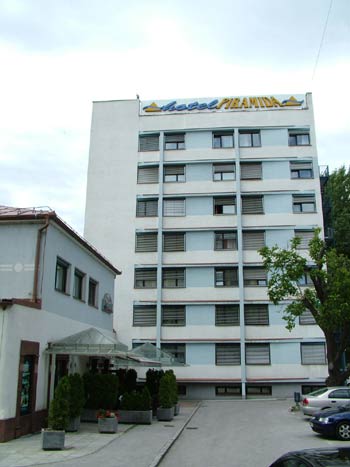 The hotel is popular particularly among business visitors but the hotel hosts regular family visits as well. Main reason? A range of excellent facilities:
81 rooms in total
seven suites/apartments
mini wellness with sauna, fitness and solarium
business club with four conference rooms (from 8 to 94 people)
one restaurant
two bars/cafes
allocated parking
wireless internet access
Well shaded open space of hotel Piramida's cafe is a popular business meeting point.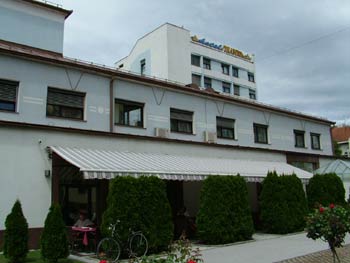 A few years ago my husband visited the hotel as part of his business negotiations with a German company. He particularly liked the attention of business-friendly staff who went the extra mile to make sure the guests were well served.
Piramida's high season low season divide is a bit different from other hotels in Maribor:
High season: March, April, May, June, September, October, November
Low season: January, February, July, August, December
Double bed CLASSIC - single use
Double bed PLUS - single use
Daily rental rate (for the whole apartment)
Prices include spa and casino entry. Half board surcharge is roughly $16 per person per day while full board surcharge is roughly $31 per person per day. Children aged under 4 staying with parents stay for free while those aged between 4 and 12 benefit from a 40% discount. The hotel will charge you an extra 15% in the case of special events (e.g.
Festival Lent
, Golden Fox competition, etc.).