Lent festival is my favorite event - one of the best festivals in Europe
Lent festival is Maribor's crown jewel, my favorite event and we've been there almost every year since 1993 when it all started. 3200 artists from 32 countries have contributed 400 performances on more than 30 stages and seen by more than half a million visitors. No wonder then Lent festival is officially recognized as one of the top 50 local festivities in the whole of Europe (source: www.localfestivities.com).
Central floating stage on river Drava offers top
performances making it the top attraction.
Since the beginning Festival Lent has received several awards, including 32 from the International Festivals & Events Association (IFEA) and that is impressive by all standards! In 2007 alone Lent Festival won two IFEA/Haas & Wilkerson Pinnacle Awards:
Silver award for the best Event Program

Silver award for the best T- shirt design
What about "big names" on Festival stages:
The legendary Ray Charles, B. B. King, James Brown, Jose Feliciano, Lester Bowie with his brass orchestra and Caribbean drummers, plus the famous French violinist Stephane Grappelli, Tania Maria, Les McCann, Jimmy Whitterspoon, Maynard Ferguson, Paquito D'Rivera, Howard Johnson and Dr. John – are just a few names among the acknowledged artists that have performed on the stages of Festival Lent.
Where to begin? Lent is actually a mixture of various festivals. There is Folkart with folklore groups from all over the world, Jazz festival, Children festival, concerts, travelogues, street and classical theaters, dance performances, literary evenings, movies, sport events and two magnificent fireworks.
The point is that there is always something for all of us. My daughter loves kids theaters, while my husband and I enjoy numerous concerts and street theaters all over Maribor.
Again, the festival stages are scattered within a walking distance to one another around the Maribor city center so there is no need for any kind of transportation. Moreover, most of the larger stages are placed on a half a mile stretch of Drava river's northern bank. Drava is thus in a way Maribor's lifeblood.
Sponsored by the local newspaper, the Vecer stage
often hosts brilliant bands.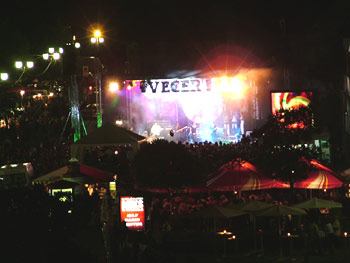 Afro-Caribbean band on the Vecer stage.
The evenings bring out thousands of people eager
to see one of their favorite events.
There are so many festival events that we've got to force ourselves to be selective or else we end up running around from one stage to another like headless chickens. OK, I admit it, sometimes even that has its own charms...
...but I guess this is up to a personal choice.
It was late but this street theater was our
daughter's favorite event and we just had to stay.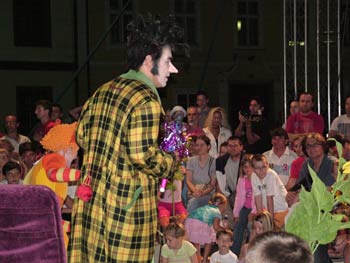 Another street theater on Lent (our former
president Tito is still alive!).
Children street performances on Lent are always
full of visitors.
Street theaters are among my favorite events and we've got to see at least a few each year. But again there are so many marvelous performances I normally select the most eccentric ones. In 2007 Tanzelarija and Kvelb proved to be really awesome. I think the mystical power of fire has got something to do with this.
Tanzelarija fire dancers were absolutely
stunning with their daring moves...
...Jasmina, Stefania and Stefan
were simply brilliant.
Every year festival organizers bring different theaters and I'm always surprised by their creativity. From acrobatics and huge puppets to fire, sounds and lightshows, no wonder street theaters are my favorites. Maribor's Lent festival has become a launching pad for many little known yet brilliant performers and that by itself makes it special.
aBlaze is a fantastic fire puppet performance by
Kvelb, an alternative theater from Czech Republic.
It must be a "hot" job to keep all this fantastic
fire puppets alive.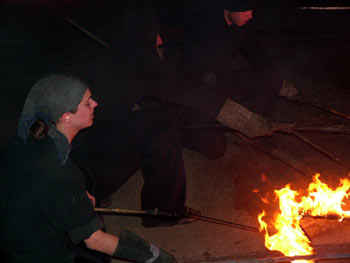 One of the most amazing things about Lent festival are ticket prices. Let me explain how things work. I normally buy a Program Catalogue (in 2009: €22 per person) at one of the festival kiosks on the river bank giving me a right to enter any festival event apart from a handful of events that require an additional charge from €4-€9. You can purchase tickets for these events (marked in the programme with *vstopnina*) at special rates with discount coupons from your coupon book or with a valid day ticket. Valid day ticket for this year (2009) costs €11.Tickets can be purchased at the Information Office of Narodni dom Maribor (entrance from Svetozarevska ulica; open daily 10 am to 8 pm), at Oder Rotovž (after 9 pm) or
at other festival venues or at sales stands around Lent.
Tickets for the events in the Slovene National Theatre "SNG Maribor" can be picked up at the Information Office of Narodni dom with your Lent Passport or a valid day ticket.
The coupon book includes various discount coupons and surprises, as well as "festival money" which can be used for discounts for food and drink at the festival site.
Student discounts are valid only for students of Slovenian universities.

However, most of the street theaters and many other events are actually completely free so the whole experience is really a bargain. This also guarantees huge crowds and a true festive spirit. Many Mariborians kind of feel obliged to purchase a catalogue in support of their beloved festival.
A band playing folks music on the Castle square.
Traditional lumber raft with live music on
river Drava during fhe Festival Lent.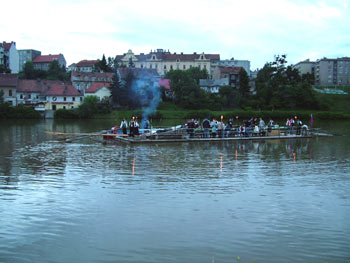 Beautiful river Drava (decorated with windmills)
during Festival Lent.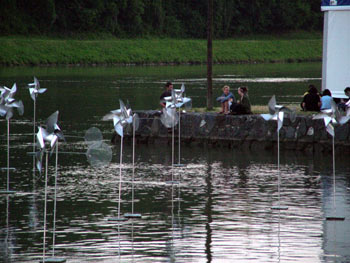 Festival Lent always hosts attractive sport events
(Rally Maribor 2006).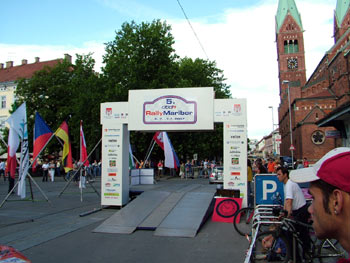 Festival currency "Lentof" is an interesting concept. Each program catalogue comes with a booklet full of various discount coupons and 20 Lentofs each worth 70 cents. It works like this. You first need to find a bar or a restaurant at the river front where they accept the festival money. Then you spend between €4.5 and €9 and receive a discount of 70 cents by handing over 1 Lentof. If you spend between €9 and €13 the discount is €1 but you've got to hand over 2 Lentofs and so on until you spend all 20 Lentofs.
But it's not just about discounts and cheap tickets, this infamous festival is a true spirit of Maribor which is smile, enjoy music and have fun!