Anderlic tourist farm holidays


Anderlic is one of Maribor's oldest and best known tourist farms located 200 meters up the road from Brigadir only a few minutes from Maribor city park. This is a more sophisticated tourist farm that is on the verge of being a superb restaurant but it's setting among surrounding farms and vineyards reveals the true identity - superb farm tourism with mouthwatering food.
You literally feel like being far away from any urban areas yet the city park can be seen straight from their spacious kids friendly terrace. This truly is a wonderful tourist farm and a mini farm hotel and among those that basically know how to retain their loyal customer base.
Recently renovated buildings are neatly decorated
and very well maintained.
.
And they didn't forget children.....
...who usually don't have time to eat the lunch.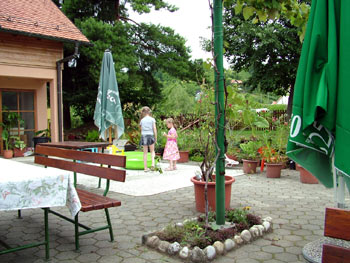 The food at Anderlic is a special experience. It all starts quite humble although the quantities and a little warning from the waitress that we shouldn't exaggerate are a bit worrying. Bowls of soup are apparently for 2 persons but we could easily invite two more couples to finish all the soup alone...
Locally sourced mushroom soup...
pure indulgence and enormous portions!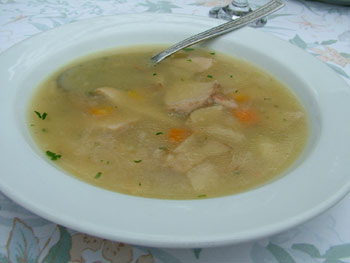 ...yet we did manage to finish off the soup. It then continues with some pretty large bowls of salads. Yep, OK, it's just a salad but hey, there is more to come...
As many Slovenian dishes salads are
simple yet absolutely delicious!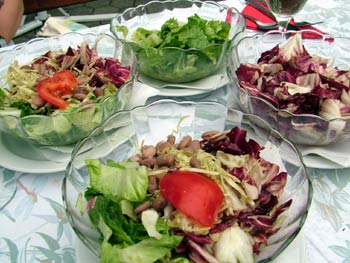 ...side dishes are next but by that time we are actually already pretty much full. Oh no, this tourist farm is definitely for hungry people because the main course is yet to arrive...
This was apparently just a side dish to the main course
that is yet to come!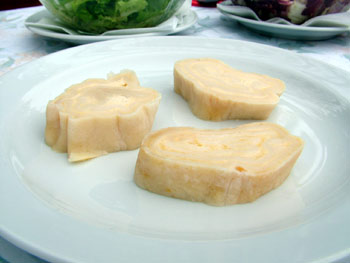 ...and when we received our main course served on huge plates joking was over. They seriously mean food here! We were totally full but you just can't stop, everything is so good...
Milan was seriously impressed when he saw
this...
... but then I was shocked with a gipsy plate...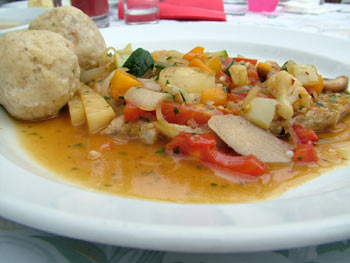 ...and this was Marusa's kids menu. I mean, come on,
she was only 4!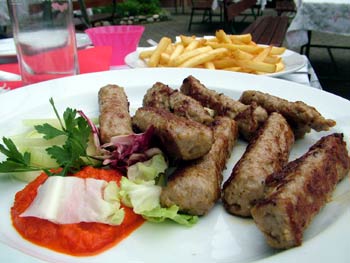 ...and as if all this wasn't enough Milan made a "fatal mistake" and ordered a house specialty - Strawberry ice cream meringue. Now, this is a tourist farm and by this time we knew the quantities are bigger than normal but he definitely wasn't expecting this...
...their chef clearly can't judge the size of a
dessert! They make everything like a main course
(Milan's strawberry ice cream meringue)!
Are we happy or what! How couldn't we be
after such a marvelous meal
(my mother in law and me) .
To be honest with $100 for a three course lunch for 4 including a bottle of wine this wasn't cheap by tourist farm standards but it was more than worth our while. Totally delicious food, beautiful nature and a kids friendly environment make this one of our top tourist farms and we've seen quite a few so far.
Address:
Gostilna Anderlic
Za Kalvarijo 10
2000 Maribor
Tel: +386 2 234 36 50
Opening times:
Monday - Sunday: 10am - 11pm