Bracko tourist farm holidays


Bracko tourist farm has something to it that makes people come back. It is located on a picturesque wine road some 10km northeast of Maribor. The farm itself is simple but really nice. No exaggeration, no extravaganza, just wonderful food, excellent wine and quiet, friendly service.
It's a bit strange because you don't expect it to stay in your memory with so many other tourist farms around Maribor. But there is a warm welcoming feeling that just makes you come back to Bracko again and again. It shouldn't be a surprise then that we have our Sunday lunch here so often.
Nice and neat - Bracko is a simple but
very well maintained farm.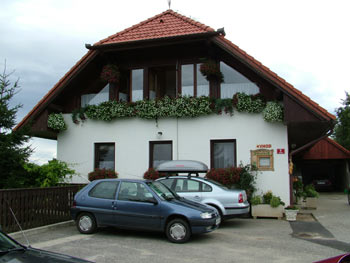 During the summer you can enjoy your food on the
open terrace surrounded with flowers
What about food? Maribor has got many excellent eateries so it's kind of hard to imagine excellent reputation of this tourist farm. Oh, but they do and they make their living with quality. Although simple by world standards, their food is a fantastic mix of the highest quality home-grown ingredients. That's why you need to book a table at Bracko...
An enormous tray of delicious farm food!
...it is all freshly made and people absolutely love it. All of their rich tasteful meals usually wrap up with a traditional gibanica although it often requires extra effort! A cup of freshly brewed Turkish coffee and a shot of home made liquor or brandy may help in this case.
Traditional gibanica (pronounced gybanitza)
is a really fine treat!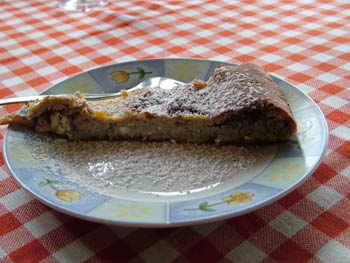 It's really interesting when you see people dining in Slovenia, be it in posh restaurants or simple farms. This is a serious business and there is no room for unnecessary talking and interruption. Tourist farms are normally very lively with laughter and singing but when it comes to food, it's usually all quiet in the house.
FOOD...is a serious business...
Tourist farms are surrounded by vineyards and forests. This particular feature makes them so very popular (well, in addition to food and wine of course). Slovenian city folk in particular like to spend their weekends somewhere in the nature but if they can combine this with a marvelous meal and a bottle of superb wine...
...and we were sitting literally just meters away
from beautiful vineyards.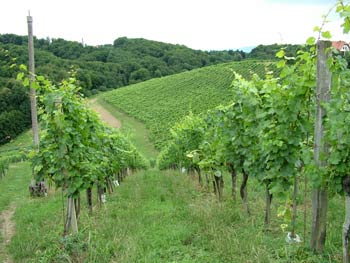 ...so much the better, but kids love it too. There is plenty of room for playing exploring vineyards, tasting fruits and simply burning all the excessive energy. That's the main reason why farm tourism is so popular among families! The environment is also absolutely safe and they can learn a lot about farm life. Brilliant, if you ask me.
Our Marusa and her cousin Sara are always
enjoying a day out at Bracko's.
So, how about prices at the Bracko farm? They are a joke for anyone used to big cities and their restaurant prices. A complete three course dinner for 4 people costs around $50 to $60.
If you want to visit this beautiful tourist farm, call them first and check if they have a free table for you.
Contact address: Bracko Frida and Anton, Vodole 5, Maribor
Phone: +386 (0)2 473 2444